X-Tack™ – HIGH PERFORMANCE TACKIFIER
FOR EROSION CONTROL REVEGETATION
• Low Viscosity – Less water use, fewer loads
• High Strength – Excellent bonding and tack
• Economical – Saves material costs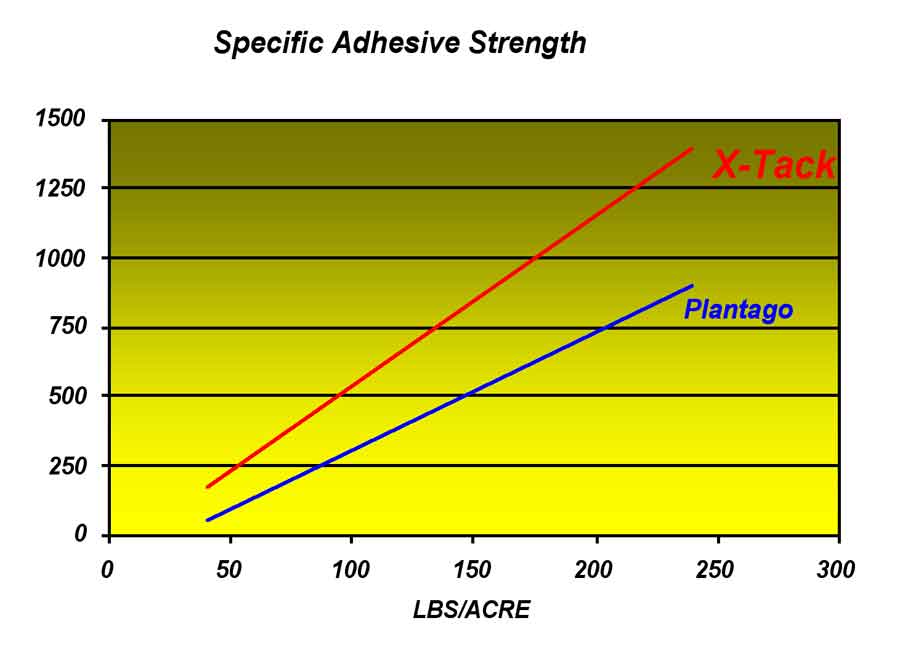 *Specific Adhesive Strength (SAS) value is amount of force in grams required to produce tensile failure divided by the sample weight.
PRODUCT DESCRIPTION
X-Tack is a tackifier manufactured in the USA from seed flour. X-Tack is 100% organic and contains a
naturally evolved polymer that is an effective adhesive when applied as a slurry with fiber or paper mulch
or as an overspray to bond straw fiber.
APPLICATION GUIDELINES
The following are general guidelines only. Consult your distributor for specific site related recommendations.
GENERAL USEAGE RATES PER ACRE
| | | |
| --- | --- | --- |
| | Straw Over Spray | Fiber Mulch |
| Mulch, lb/acre | 200 | 2000 |
| X-Tack™, lb/acre | 100 | 40 |
| Water, gal/acre | 700-1500 | 3000-4000 |
MIXING INSTRUCTIONS
Fill the tank so the lower agitator blades are covered with water. Add the required amount of X-Tack while operating the agitator at high speed. Add water while adding mulch, fertilizer and seed.
PACKAGING
•  X-Tack is packaged in 50 lb paper bags, 40 bags per pallet with stretch-wrapped cover and pallet liner.